Contexis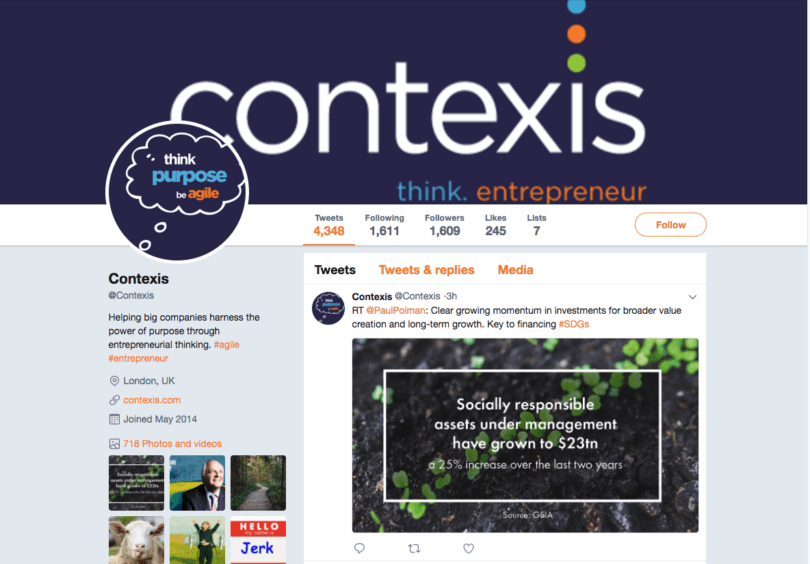 The team at Contexis needed help to develop a strategic approach to their social media marketing.
A company with a fascinating mission: "to free large complex global companies from the mindset and structures that slow them down and to help them to build remarkable relationships with entrepreneurial partners and customers", we were excited to help them get their message right and get greater engagement.
The project's goal was to enable the team to produce consistent, effective messaging to boost brand credibility with senior decision makers within business communities.
After an initial meeting with the Contexis team to listen to and understand their frustrations, concerns and hopes, we designed and delivered a half-day workshop – creating some valuable space to clarify what would enable success.
From this, our work covered tone of voice, content generation and curation, scheduling tools and software, use of imagery and analytics, resulting in a strategy document and cheatsheet that enabled staff to deliver good quality content confidently.
Our approach is never to try and sell long, ongoing maintenance contracts or bamboozle clients with new-media nonsense.  Instead we provide useful, insight-driven resources and trusted advice, so that you can build and rely on what you've learnt, knowing we'll happily help again or give you longer-term support if you need it.
Now, Contexis enjoy greater engagement and more practical and time-efficient management of their social media channels.  Followers are up on all networks, but most importantly the team at Contexis have grown in confidence and have the knowledge and systems in place to produce high-quality, consistent and effective messaging that builds their brand credibility.
"Working with the team at Autumn Live enabled us to get a solid handle on our strategic objectives for social media, so we really understood why we were doing what we were doing, and they helped us to choose the best practical tools to crack on with the job.  It is testament to how useful the process was that, months later, the strategy document they delivered is still on my desk covered in handwriting and sticky notes and regularly referred to. They are passionate, knowledgable, thorough and easy to understand and to work with – just what we were looking for."
Charlotte Baker / Head of the engine room / Contexis